Click on one of the images below to start searching…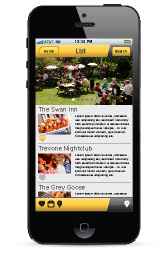 App for Cornwall welcomes you to our beautiful county. Take a look at our website and then download the app totally FREE. All this information will be at your fingertips wherever you are and whenever you need it!
Let us take you on a journey and help you make up your mind how to enjoy 'Cornwall'
Our App information ranges from 'Accommodation' to 'Attractions' and 'Activities' and everything from adrenalin fun filled days, to National Trust houses and gardens, museums, theme parks and wildlife. Basically, there's everything you need to plan your holiday or days out.
App For Cornwall can guide you around the coast and can even tell you which beaches are dog friendly, plus you can also check out the daily tide times as well. If you want a swim but not at the beach, there are some great indoor and outdoor swimming pools and activities you can visit.
If you don't fancy the beach or watersports, how about horse riding, lake fishing, cycling, boating and many more attractions ? Or if that doesn't appeal, why not spend the day at a vineyard sampling the local wines. If it's retail therapy you desire, check out the 'Shopping' category for markets selling local farm produce and other specialist gifts and crafts, or shops selling the latest surf and sports wear.
Feel like treating yourself to some relaxation therapy? We also have health and beauty options for you to check out. Not sure where to visit? Have a look at our information section and read about the different Cornish towns and villages, then search around the local area.
Let's not forget about food and drink, with our famous Cornish pasty and cream tea! We have a wide variety of 'Places to Eat', plus many 'Pubs & Clubs' of your choice you can check out.
Don't forget to check the special 'Offers/Vouchers' tab as they will be updated regularly with a huge range to choose from, so grab yourself a money off voucher and a bargain.
If you just want some 'Information' in an emergency we can help you too, from local hospitals & dentists to vets & petrol stations, it's all on there!
Or if you just want to know what's going on in the county, take a look at our 'What's On' listing.
We aim to make App for Cornwall the best it can be and we are constantly updating the site. Please check it out regularly and let us have your feedback, we'd love to hear from you.